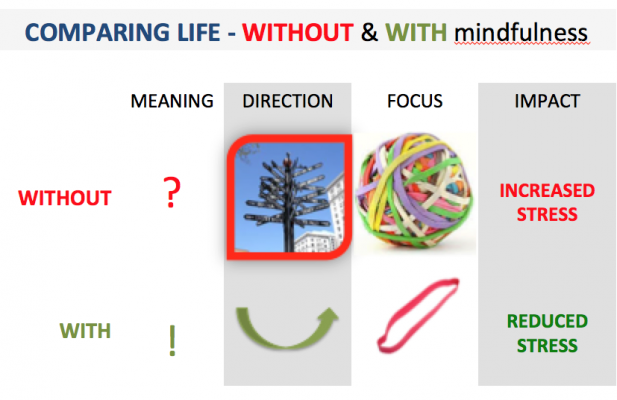 Defining mindfulness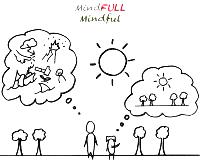 It is the practice of becoming aware of one's own experience as it is taking place.  Bringing in the center of attention one's own physical sensations, emotions and thoughts helps cultivating the observer position. It is scientifically proven that developing the ability to be aware in this way helps reduce stress, anxiety and prevents depression. One can learn to practice being attentive to unfiltered life experiences. It is not about analyzing and elaborating on the experience one is going through, it is about observing it without judging it and without the pressure to alter it. This creates an opportunity to put on hold the inner judge and simply take distance. In turn, these attitudes release the inner tensions and give a space to cultivate our ability to respond to life challenges with more ease.
Body and mind
Western society is at a crossroad where the world of the inner (phenomena) and the world of the outer (sciences) are coming into dialogue. The Eastern traditions bring to the forefront practices that help shape the inner dialogue; the Western sciences bring technologies that proves the impact of working on one's own body and mind connection and which can be observed on the functioning of the brain using MRI.
Global wave
In 2013 , 2014, 2015, the organisers of the World Economic Forum in Davos have invited thoughts leaders and practionners of mindfulness. In 2015, Jon-Kabat Zinn was a keynote speaker. It is his approach of mindfulness that is widely spread in preventive medicine, the workplace and schools. He has put together a program called Mindfulness Based Stress Reduction (MBSR) which we greatly use.
It is not relaxation
Mindfulness is not a relaxation technique. While a sense of relaxation often follows from practicing mindfulness this is not the main intention. The regular practice enables participants to learn to be attentive and focus on their experience, to observe without judging and extract themselves from the pressure to alter what it is. It helps understand that one does not need to identify with one's own thoughts or emotions.
Myth about meditation
Meditation is viewed differently from various Eastern and Western traditions. In the secular practice of mindfulness we offer, the attitude is not to fight the occurrence of sensations, emotions and thoughts but simply not to identify and engage with them as they occur in our mind and become the center of our attention. Over time, the space where attention is present without a particular object to lay on increases, this may give an impression of the absence of the sensations, emotions or thoughts. When this happens, one is aware of it the same way as one is aware when an object is at the center of our attention.
Our service offer
We design our interaction with our client in a very dynamic way and also ensure that all aspects of our clients (body, emotions, mind) are part of the coaching or training. More than a specific part of our service offer it is a quality of being that we infuse in our interactions. Providing the circumstances support it and the client needs speak in favour, we regularly offer meditation or breathing space to help rejuvenation.
Keep practicing
It is great to learn about mindfulness with a real teacher. It is equally valuable to keep the practice supported by audio and apps which have been blooming the last years. No mindfulness practice is really complex. The challenge comes from taking the time, even a few minutes, to practice so stress does not build up. We particularly appreciate the apps from Jon-Kabat Zinn which are the source of the mindfulness global wave. Other apps do a very good service too. Choose one you like and make best use of it.