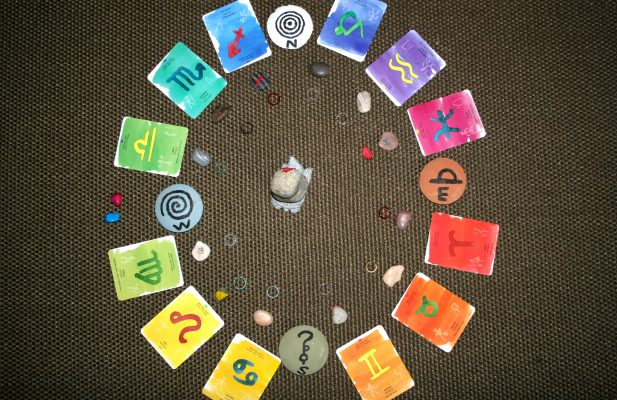 Astroshamanism is a holistic system of healing aimed at enlarging human perception through the integration of shamanism with energy work, experiential astrology, the archaic mystery traditions and the context of contemporary society. Its present form is the result of research developed by Franco Santoro since 1976, thanks to the contribution of shamans from various cultures and the experience gained with the Findhorn Foundation, where Franco has worked since 1999.
Shamanism is the most ancient and widespread method of healing. In all parts of this planet and in all ages there is evidence of shamanic practices. A shaman is an individual who, out of his will, is able to enter into an expanded state of consciousness to relate with realities which are alien to ordinary human beings and use this connection to get wisdom, ecstasy, power and for healing purposes. Shamans move between different dimensions, relating with ecstatic and enlightened realms. Yet, differing from mystics or other spiritual masters, they do not aim at enlightenment for its own sake. Their purpose is to move to other realms and then come back to help their community. In shamanism, as with astrology, there is no separation and everything is perceived as part of the same web of life. The chief trait of shamans is their clear awareness of this unity and their capacity to heal the perception of separation, which is the basic cause of all sufferance. Their main task is to retrieve the fragmented pieces of human souls, which they accomplish through the support from spirit guides. The relationship with these beings aimed at promoting individual and planetary healing represents the basic work of astroshamanism.
Astrology is the oldest form of communication and symbolic language, which in astroshamanism is used to access information on the geography of states of consciousness, allowing their identification and safe exploration. Here the traditional horoscope reveals itself through emotions, movements, dances, sounds, rituals, images and situations aimed at expanding awareness and supporting strong transformational processes. A major part of the work with astroshamanism has to do with undoing the illusion of separation through honestly acknowledging and releasing grievances and pent-up emotions. This process does not occur by escaping or transcending the physical dimension, but through using it as a teaching device to fulfil our true life purpose in this plane. Rather than ignoring or repressing grievances and hidden emotions, we can instead learn to open up to their true nature. Astroshamanism is about taking full responsibility about our presence in the material plane, giving up denials and patiently undoing separation.
Astroshamanic Practices can easily be related and integrated in our contemporary reality. Franco's approach is to adapt shamanic work according to the characteristics of each individual and group who work with him. This is based on the experience that each one carries unique potentials, which astroshamanism aims at identifying and supporting through a large variety of tools. During group sessions participants are empowered to decide regarding the extent of their exposure to the work. They are also invited to share their feelings, and ask questions or support if necessary. The astroshamanic approach aims first at creating an environment based on safety and mutual respect, in order to provide a healing foundation for exploring challenging or less comfortable zones. In this context Franco allows participants to take their own risks and decide upon their best course of action, honouring their inner guidance as well as their resistances, without pushing, yet being available to provide tools and support for transforming blocks and unveiling authentic talents.
Group practices involve shamanic voyages, drumming and chanting, ecstatic postures, astroshamanic trance dance and drama, experiential work with the astrological wheel, ritual sharing, soul retrieval, astroshamanic touch or bodywork. This approach involves entering into expanded states of consciousness, trance states, experiences of ecstasy and unity with the divine, yet always aiming at reaching a full integration into everyday life and supporting the expression of one's authentic potential.
For further information: www.astroshamanism.org or Franco Santoro, Astroshamanism: A Journey into the Inner Universe, Findhorn Press, 2003; Franco Santoro, Astroshamanism: The Voyage through the Zodiac, Findhorn Press, 2003. Please also feel free to contact Franco at info@astroshamanism.org or Franco Santoro, Cluny Hill College, Forres IV36 2RD, Scotland, United Kingdom.