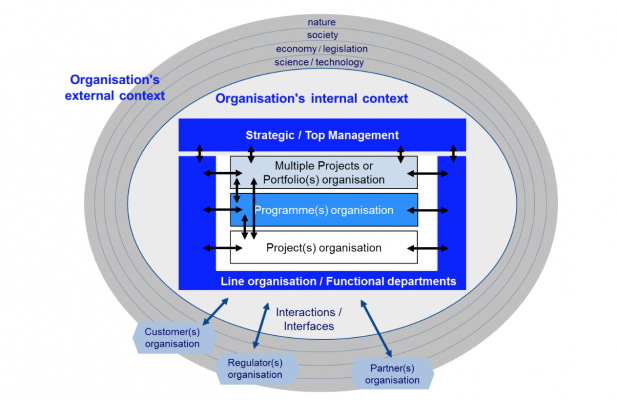 Bridging project and organisation
Why?
An important aim for project governance is to ensure alignment between project portfolio and business objectives. However, in practice it may not always be self-evident how to check and ensure that each project is aligned with the organisations overall mission, vision and strategy.
How & what?
The project governance team is introduced to a process of using the IPMA Model (Organisational Competence Baseline) for assessing competence in managing projects by reviewing their project governance through guided self-assessment on different perspectives. By systematically asking, reflecting and improving on the most important questions about main areas such as project, programme and portfolio (PP&P) Governance, Management, Alignment etc., the project governance team is invited to a structured development journey that is modular, and step by step enable and direct improvement activities to most critical areas.
Who?
Individuals in charge of governing and managing projects, programmes and portfolios such as project sponsors, PMO staff, programme and portfolio managers etc. who wants to ensure that project activities are delivering value for the organisation.